Open And Subscribe to TechMove In iTunes
Please remember to support TechMove – by clicking on the Amazon links all or going to techmovepodcast.com/amazon.
Get to know Rod and Keith of TechMove
In This Episode…
In Segment 1,  Rod and Keith talk about the newly released Sony A6500. Rodney is psyched about the feature set of this new camera and they talk incessantly about the advantages and disadvantages of it vs Micro 4/3.
Segment 2 features Rod and Keith lamenting about Apple's Vintage and Obsolete Mac List and what makes a computer 'Vintage…' And how Keith nearly bricked his venerable 2010/2012 12-Core Mac Pro by attempting to upgrade to the dual 3.46Ghz Xeon Processors himself instead of using OWC's Processor Upgrade Service.
Then in Segment 3, Keith and Rod return to what put TechMove on the map, another "Put Me In A Coma" segment, where Keith induces a un-wakable sleep state by talking about his He talks about his newish Canon 24mm 1.4 L II and Canon 70-200 F4 L IS lenses in "What makes a lens good?"
In Segment 4, Keith talks all about the latest stuff he's acquired in the past year, such as the Westcott Flex last deal, Limostudio Photo Video Photography clips , the Lastolite Joe McNally UpLite Kit turned into something called a "Book light," the Cyberpower 1500VA PFC UPS LCD Battery Backup, and Dracast LED1000 Silver Series Foldable Bi-Color LED Light.
In the Outtro, Rod reprises his discussion about the  Sony A6500. and a TechMove listener tries to put doubt in Rod's mind that this is going to be his new camera. Keith then describes his latest warranty-destroying hack achieved by first going the official Sony Playmemories site – then going to the hack site – thereby breaking the Sony 30-minute recording barrier which then needs a long-lasting camera power solution, the Atomos Power Station Video battery system. Will Keith brick his 3 Sony A7-series cameras? Then Keith teases an age-old question: will he 'switch' from Premiere Pro to FCPX at last?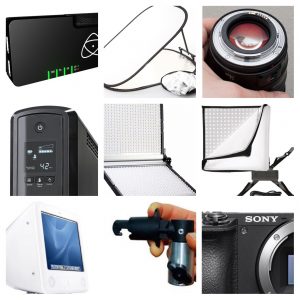 Please remember to support TechMove –  it's easy and doesn't cost you anything, just click on these Amazon links all over these pages or go to techmovepodcast.com/amazon.