Open And Subscribe to TechMove In iTunes
Please remember to support TechMove – by clicking on the Amazon links all or going to techmovepodcast.com/amazon.
Get to know Rod and Keith of TechMove
In This Episode…
Segment 1: Keith's Buyer's Remorse? Rod asks Keith…
Is Keith's Sony FS5 Crippled?
Why did Keith return these  Zeiss, Sigma, Canon lenses?
Any why did Keith return his Varavon Cage, his Seiki 4K monitor?
Is Keith finally happy with his new 27″ Dell 4K Monitor, his upgrade to Mac OS 10.10 and his Nvidia GTX980ti?
In Segment 2, "Keith's Gearbox", Rodney then questions Keith about some of his new gear such as…
Cinevate Grip Reacher
SmallHD 501
His Self Balancing Scooter- AKA "Hoverboard"
Westcott Flex Lights
Then, in the last segment, Rod asks Keith about his gear he's purchased but hasn't actually yet used such as…
DJI Phantom 4
Came-TV Single Gimbal with encoders
BlackMagic Ursa Mini 4.6K Disappointment
Then, Keith and Rod give their NAB 2016 Predictions – even though NAB has already happened,  – LOL! – Including fictional and already released cameras…
GH5 – Better Low Light, faster zooms, improvement in FPS in 4K up to 60P, Slomo slower, less artifacting, more dynamic range, 10-bit internal recording, 4.2.0 4.2,2, Stabilized sensor
Sony A6300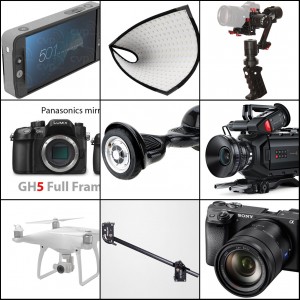 Please remember to support TechMove –  it's easy and doesn't cost you anything, just click on these Amazon links all over these pages or go to techmovepodcast.com/amazon.